Olafur Eliasson, born in 1967. Grew up in Iceland and Denmark, lives and works in Copenhagen and Berlin
2016 Eliasson Versailles, Chateau de Versailles, France
2014 Contact, Fondation Louis Vuitton, Paris, France
2014 Riverbed, Louisiana Museum of Modern Art, Denmark
2012 Little Sun project launch, Tate Modern, London, UK (see video)
Public Collections (selection) : MoMA, New-York, USA, Tate Modern London, UK, Centre Pompidou Paris, France
Crystal Award 2016, World Economic Forum, Davos
Work
Olafur Eliasson combines art and science to explore our relationship with space and time. His work exemplifies the power of collaborative efforts, and his art is equally at home in museums, public space, and everyday life. Well-known for his 2003 installation The weather project, at Tate Modern London, which was seen by over two million visitors, and for Contact, his recent exhibition at Fondation Louis Vuitton in Paris, Olafur Eliasson's work spans from photography and film to sculpture, installation, and architecture. Established in 1995, his Berlin studio today numbers about 90 craftsmen, architects, and art historians.
The Weather Project, Turbine Hall, Tate Modern, London, 2003 © Studio Olafur Eliasson

Ice Watch Paris, Place du Panthéon, from 3 to 13 December 2015

Ice Watch will showcase 80 tonnes of ice from a fjord outside Nuuk, Greenland with the aim of inspiring public action against climate change.
Harvested from free-floating blocks of ice, the work will be arranged in a clock formation on the Place du Panthéon on Thursday, 3 December 2015, while world leaders and their climate teams gather in Le Bourget, Paris to discuss how to ensure a stable climate for future generations. In the days following, the ice will be allowed to melt in the square, offering the general public a glimpse at climate change on our planet.
"Today we have access to reliable data that sheds light on what will happen and what can be done," said Olafur Eliasson. "Let's appreciate this unique opportunity – we, the world, can and must act now. Let's transform climate knowledge into climate action. As an artist I hope my works touch people, which in turn can make something that may have previously seemed quite abstract more a reality. Art has the ability to change our perceptions and perspectives on the world, and Ice Watch makes the climate challenges we are facing tangible. I hope it will inspire shared commitment to taking climate action."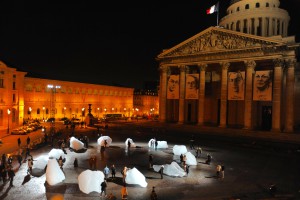 "From my visit to the Arctic last year, I have a very lively memory of the horrifying noise and sight of huge ice blocks cracking and breaking away from the pack," said Laurent Fabius, French Minister of Foreign Affairs and International Development, and President of COP21. "The Arctic is indeed the gatekeeper of climate disorder: for years, this region has been sending us signals that we cannot neglect anymore. The international community must hear them and turn them into acts."
"Through our actions we are now close to terminating the period of stable climate that served as the condition for civilisations to arise and flourish," said Minik Rosing, Professor of Geology, the Natural History Museum of Denmark at the University of Copenhagen. "Science and technology have made it possible for us to destabilise Earth's climate, but now that we understand the mechanisms behind these changes, we have the power to prevent them from growing."
"Ice Watch is a great example of how public art can draw attention to big challenges and spur people to action," said Michael R. Bloomberg, Founder of Bloomberg LP, Bloomberg Philanthropies, and three-term Mayor of New York City. Michael Bloomberg also serves as the UN Secretary-General's Special Envoy for Cities and Climate Change and is co-hosting the Climate Summit for Local Leaders with Paris Mayor Anne Hidalgo at Paris City Hall on 4 December.
With the support of:


12 ways the arts can encourage climate action https://t.co/ikI8zg5gUk

— Guardian Environment (@guardianeco) 25 avril 2016
Environmental art is on the rise – with a little help from Leonardo DiCaprio https://t.co/M3bZaYijWM

— Guardian Environment (@guardianeco) 26 mars 2016
10/12/2015 / Huffington Post: Massive Glaciers Are Melting In Paris And The City Can't Ignore Them (Katherine Brooks)
09/12/2015 / The Economist Intelligent Life Magazine: Olafur Eliasson's rallying cry (Helen Gordon)
08/12/2015 / CNN: Watching Greenland melt from Paris ( John D. Sutter)
08/12/2015 / Artsy: In Wake of Paris Attacks, Olafur Eliasson's Ice Blocks Evoke the Human Impact of Climate Change (George Philip Lebourdais)
05/12/2015 / The New Yorker: The Artist Who Is Bringing Icebergs to Paris ( Cynthia Zarin)
04/12/2015 / FranceTVinfo CultureBox: Ice Watch, les blocs de glace d'Olafur Eliasson installés au Panthéon (Odile Morain)
03/12/2015 / Associated Press: Artist brings ice blocks from Greenland | Editor's Pick
03/12/2015 / Reuters: Artist hauls Greenland ice to Paris as a reminder of climate change (Richard Valdmanis)
03/12/2015 / Le Figaro: Le Panthéon à minuit avec Ice Watch Paris d'Olafur Eliasson (Valérie Duponchelle)
27/11/2015 / Le Monde: quelle place pour l'art face aux enjeux climatiques? (Emmanuelle Jardonnet)
09/11/2015 / Le Monde: Avec Olafur Eliasson, la banquise s'invite à Paris pour la COP21 (Emmanuelle Jardonnet)
Olafur Eliasson: why I'm sailing Arctic icebergs into Paris https://t.co/bjLW3S1lD2

— Guardian Environment (@guardianeco) 17 Novembre 2015