Olafur Eliasson, born in 1967. Grew up in Iceland and Denmark, lives and works in Copenhagen and Berlin
2016 Eliasson Versailles, Chateau de Versailles, France
2014 Contact, Fondation Louis Vuitton, Paris, France
2014 Riverbed, Louisiana Museum of Modern Art, Denmark
2012 Little Sun project launch, Tate Modern, London, UK (see video)
Public Collections (selection) : MoMA, New-York, USA, Tate Modern London, UK, Centre Pompidou Paris, France
Crystal Award 2016, World Economic Forum, Davos

Work
Olafur Eliasson combines art and science to explore our relationship with space and time. His work exemplifies the power of collaborative efforts, and his art is equally at home in museums, public space, and everyday life. Well-known for his 2003 installation The weather project, at Tate Modern London, which was seen by over two million visitors, and for Contact, his recent exhibition at Fondation Louis Vuitton in Paris, Olafur Eliasson's work spans from photography and film to sculpture, installation, and architecture. Established in 1995, his Berlin studio today numbers about 90 craftsmen, architects, and art historians.
The Weather Project, Turbine Hall, Tate Modern, London, 2003 © Studio Olafur Eliasson
Little Sun
Little Sun is a social business and global project focused on getting clean, reliable, affordable light to the 1.2 billion people worldwide without access to electricity. The Little Sun lamps purchased enable delivery of Little Suns to off-grid regions of the world affected by climate change and desertification.
Little Sun: A Light for Everyone from Little Sun on Vimeo.
The Solar Kids Alliance: the alliance of schoolchildren from North to South, for a more united and sustainable future
On 7 November 2016, for the opening ceremony of the COP22 in Marrakech, the 2,000 Little Sun offered to the 2,000 delegates of the 196 Nations by the French Presidency of COP21, as symbols of North/South climate action, allowed the launch of the Kids Solar Alliance to the first classes of schoolchildren:
In France, 2 classes at Romain Rolland and Pablo Picasso colleges in Clichy and Montfermeil, a suburb from Paris which decided to bet on Culture as a social catalyst with the Medici workshops,
In Ethiopia, country of meskel, this endemic flower that inspired Little Sun's design, at the Kundi School in the Wof Washa region, with the support of the British NGO Tree Aid,
In Morocco, where is the largest solar power station in Africa, Noor, in 2 schools attended by children from nomadic families in the oases of Errachidia region, with the support of the Franco-Moroccan NGO CARI.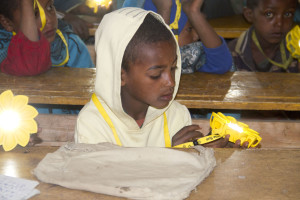 Through the distribution of these lamps that allow schoolchildren in off-grid regions of the South to study at night, the Solar Kids Alliance aims to make Little Sun the "little light" symbol of an education program contributing to action on at least 6 of the 17 UN Sustainable Development Goals:
N ° 4: quality education,
No. 5: gender equality,
No. 7: clean and affordable energy
No. 10: reduced inequalities,
N ° 13: climate action,
No. 15: life on land.
Schoolchildren from North to South will be encouraged to share "what Little Sun illuminates differently in their everyday lives, what it changes for good".
This project is a joint initiative of Artists4Climate and the Little Sun Foundation.
Solar Kids Alliance – Taking action towards the UN Sustainable Development Goals! from Little Sun Foundation e.V. on Vimeo.
Little Sun for the opening ceremony of COP22, 7 November 2016
Ségolène Royal, President of COP21, invited all delegations to illuminate the room with Little Sun solar lamps. Two thousand lamps pierced the darkness of the room and created a wave of light, thus representing access to light and energy for all.
This event has been made possible thanks to the personal support of the French Minister of Environment, Energy and the Sea. The symbolic purchase of 2,000 Little Sun for the 2,000 United Nations delegates allows the financing of the first step of the "Children Solar Alliance": making children of the world, North and South, power the future !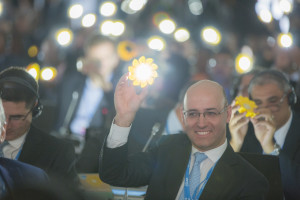 In the coming weeks, a few groups of children from Morocco, Ethiopia and France will discover what Little Sun can change in their daily lives, sharing their experiences on both sides of the Mediterranean Sea.
little-sun-shines-a-light-on-climate-change-at-cop22-opening-in-marrakesh
Little Sun in the hands of the 2000 UN delegates of the 196 parties for the UNFCCC COP22 opening in Marrakech on Nov 7 2016
www.littlesun.com
www.artists4climate.com
Mars, Nike, Levi Strauss and Starbucks urged President-elect Trump not to abandon the Paris climate deal. https://t.co/TdSMkV0EgD

— NYT Business (@nytimesbusiness) 16 novembre 2016
.@Salahmezouar & @RoyalSegolene present globe & delegates hold up #solar lanterns in honor of #ParisAgreement & #ClimateAction at #COP22 pic.twitter.com/58JBj7KV3c

— UN Climate Action (@UNFCCC) 7 novembre 2016
Little Sun at COP21, 2 & 3 December 2015
For COP21, a March is organized on 2d December from Montfermeil, a city where 80 nationalities are living together and with an ambitious cultural project ahead, to Le Bourget, site of COP21. Marchers have carried symbolically a Little Sun. On 3d December, students from Paris 1 Panthéon Sorbonne University have been invited to form a circle of light around Ice Watch, Place du Panthéon, as a sign of hope for the agreement to come in Paris (see video below).
The start of the march towards Le Bourget, in front of Montfermeil City Hall, December 2, 2015
02/12/2015 / La Vie: "Ma COP21" (3), Cherif Habb, jeune marcheur du 93 (Olivier Nouaillas)
20 au 30 Octobre 2015: "Le Méridien Climatique", Paris 1 Panthéon-Sorbonne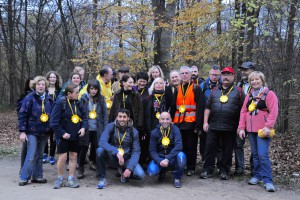 How does it feel to be a melting iceberg? from Little Sun on Vimeo.
For #COP21, @olafureliasson with @LittleSun ready for action in @paris https://t.co/4ywHPn7BbL #COP21artists pic.twitter.com/hnBtw5kVkY — artists 4 paris 2015 (@artists4cop21) 22 Février 2015