Gideon Mendel, born in 1959 in Johannesburg, South Africa, lives and works in London
2016   Drowning World, Broad Art Museum, Michigan State University, USA
2015   Prix Pictet, Disorder, Musée d'Art Moderne de la Ville de Paris, France
2013   Gideon Mendel: Drowning World – Tiwani Contemporary, Londres, UK
2013   Picture Windows: Gideon Mendel – ICP – International Center of Photography, New York City, NY, USA
Public Collections (selection) : The International Centre of Photography (ICP), NewYork, USA, The South African National Gallery (SANG), Johannesburg Art Gallery (JAG), WAM (Wits Art Museum), Johannesburg, South Africa
Prizes (selection): Pollock Prize for Creativity (1st recipient in 2016), Eugene Smith Award for Humanistic Photography, six World Press Photo Awards, Amnesty International Media Award for Photojournalism.
Work
After studying Psychology and African History at the University of Cape Town, Gideon Mendel began photographing in the 1980s during the final years of apartheid. It was his work as a 'struggle photographer' at this time that first brought his work to global attention.
In the early 1990s he moved to London, from where he has continued to respond to social issues globally. One of the major focuses of his work soon became the issue of HIV/AIDS.
Since 2007, Mendel has been working on Drowning World, an art and advocacy project about flooding that is his personal response to climate change. This work has been noted for its unusual use of portraiture, as well as its combination of photography with video pieces.
HIV – We are living here – Nozamile © Gideon Mendel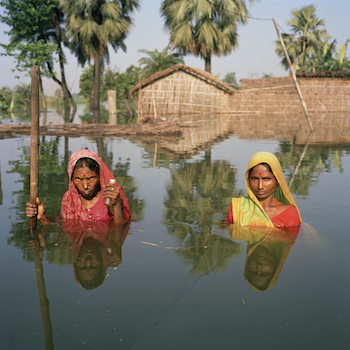 Project : Drowning World, from 23 to 29 November in Paris
« Drowning World is my attempt to explore the effects of climate change in an intimate way, taking us beyond faceless statistics and into the individual experiences of its victims.
I began work on Drowning World in 2007 when I photographed two floods that occurred within weeks of each other, one in the UK and the other in India. I was deeply struck by the contrasting impacts of these floods, and the shared vulnerability that seemed to unite their victims.
Since then I have endeavored to visit flood zones around the world, travelling Haiti, Pakistan, Australia, Thailand, Nigeria, Germany, The Philippines, Bangladesh, Brazil, the USA and returning again to India and the UK recently in search of these commonalities and differences.
Chinta et Samundri Davi, Village de Salempur près de Muzaffarpur, Bihar, Inde, Aout 2007  © Gideon Mendel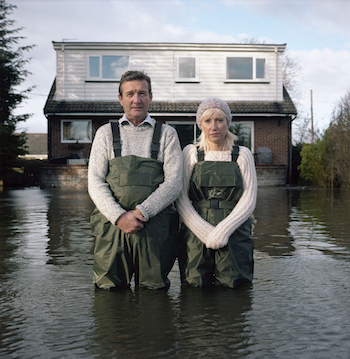 I choose to shoot the photographs on medium format film, using a set of very old Rolleiflex cameras. This is expensive and difficult to do while working under the most challenging of circumstances. But I believe that it gives the images a distinctive quality and also necessitates a formal rigor in my approach.
The flood is an ancient metaphor, found within the myths and legends of many cultures. It represents an overwhelming, destructive force that renders humanity powerless in its wake and leaves us seeking refuge. As global warming drives an increasing number of extreme flooding events each year, this message continues to resonate."
Jeff et Tracey Waters Staines-upon-Thames, Surrey, Royaume-Uni, Février 2014  © Gideon Mendel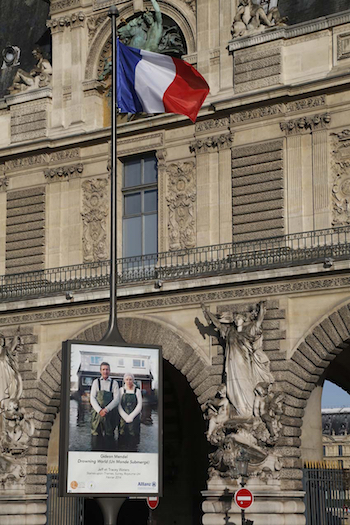 From 23 to 29 November 2015, on the eve of the opening of COP21, 20 JCDecaux billboards, in Paris center, will show 20 of the most significant photos from Drowning World, made from 10 trips since 2007, including 3 this year.
The Parisian project has been brought to life thanks to the support of group Allianz.
Jacques Richier, CEO of Allianz France : "Last October, we had to face a major weather event
in south-eastern France. This is the intimate look beyond insurance statistics, which make the
photographs of Gideon Mendel so intense. Events of this nature will be repeated. We must
learn from it. We need an ambitious climate action. "
Jean-Charles Decaux, JCDecaux General Co-Director "For over 50 years, JCDecaux's
mission is to experience art in the city and make it accessible to the greatest number. We are
delighted to stage in Paris the "Drowning World" exhibition and contribute to public
awareness of the consequences of global warming."
With the support of:


JCDecaux billboard, Quai du Louvre / Pont du Carrousel, Paris, 23 to 29/11/15
Photo Gideon Mendel
151123_pr_Mendel_Drowning_World_ev
05/01/16: The Atlantic: 'Drowning World': Photographs of Floods From Haiti to Germany (Amanda Colson Hurley)
29/11/15 / Nouvel Obs: Il montre un monde englouti (Emmanuelle Hirschauer)
28/11/15 / Le Monde: un monde submergé dans les rues de Paris (Emmanuelle Jardonnet)
13/11/15 / The Gardian: Extreme weather, human error and why the world floods (John Vidal)
15/01/15 / National Geographic: Gideon Mendel's Portraits From a Drowning World (Coburn Dukehart)
Water: Chapters 6-9 (excerpt) from Gideon Mendel on Vimeo.
Notre « monde submergé » vu par Gideon Mendel https://t.co/1RMiFWpsDz

— Le Monde Planète (@lemonde_planete) 27 Novembre 2015
Extreme weather, human error and why the world floods https://t.co/Wbmoek1b8w — Guardian Environment (@guardianeco) 13 Novembre 2015
Our climate photo of the week: @gideonmendel shows victims of flooding in Brazil http://t.co/qnxbaQPky0 pic.twitter.com/mUIAzBH60A

— UNFCCC (@UNFCCC) 13 Mars 2015
#COP21 @gideonmendel in North Brazil https://t.co/uLgcGken4j. Drowning world https://t.co/VER4D7h5KO #COP21artists pic.twitter.com/wdJOeK4yvn — artists 4 paris 2015 (@artists4cop21) 9 Mars 2015
#COP21 @fhollande & @CFigueres in #Philippines for #climate : drowning world https://t.co/VER4D7h5KO #COP21artists pic.twitter.com/LPgquWDIGz

— artists 4 paris 2015 (@artists4cop21) 26 Février 2015